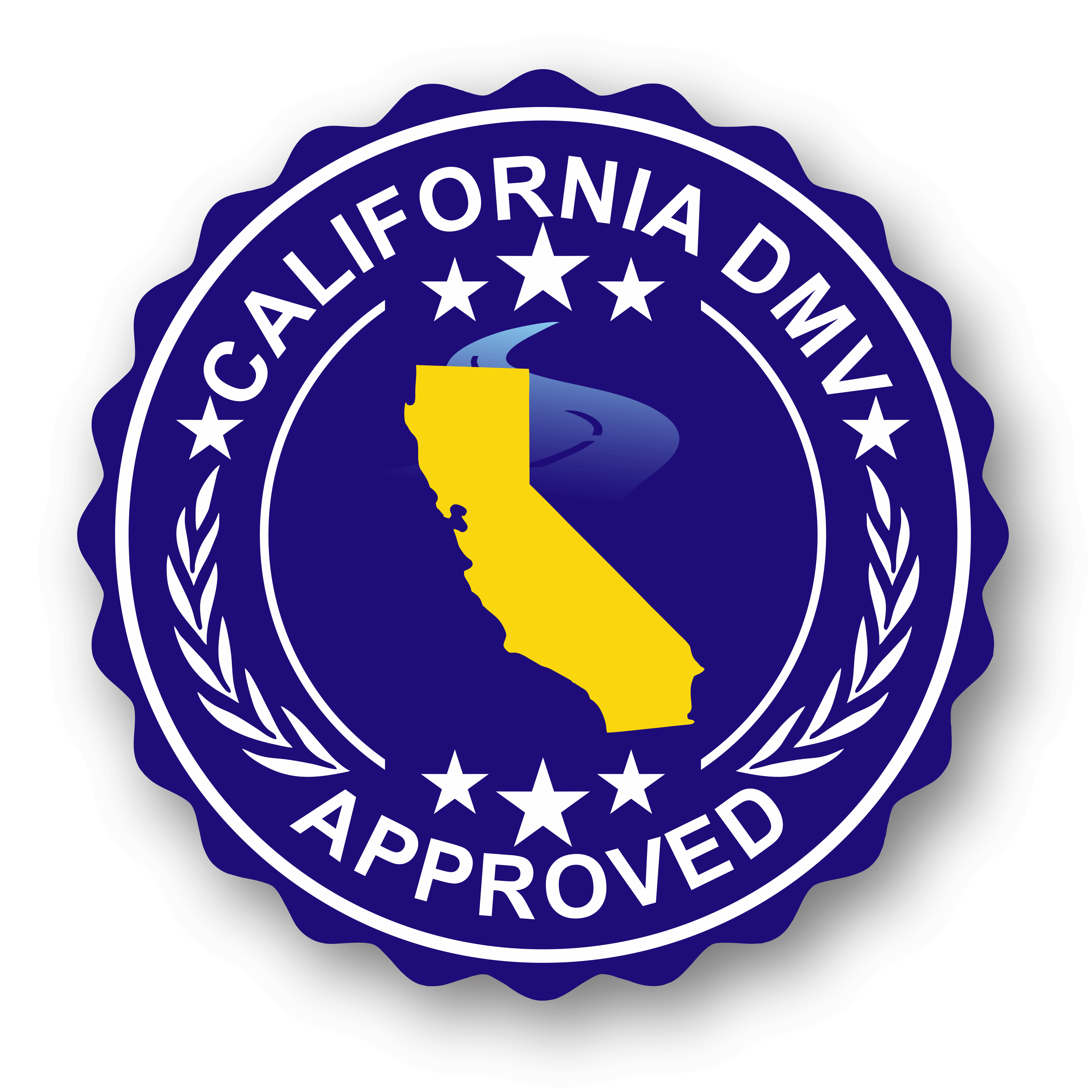 California Drivers Ed Online
DMV-Approved Course; License #E2250
30-Hour Online Course
Certificate and Shipping Are FREE
DMV Practice Test Included (With Unlimited Tries)
Mobile Friendly
Sign In and Out at Your Convenience
No Hidden Fees
100% Money-Back Guarantee
Self-Paced. Go as Fast or as Slow as You Want
Resume Where You Left Off From Any Device
BBB Accredited (A+ Rated)
| | | |
| --- | --- | --- |
| | US | COMPETITORS |
| 8AM - Midnight Customer Support | | |
| No Hidden Fees | | |
| Certificate Included | | |
| Audio Read Along | | |
| Price Match Promise | | |
| Money Back Guarantee | | |
SALE ENDS IN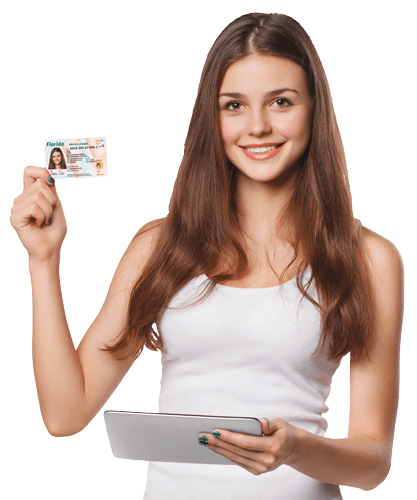 STATE-APPROVED CALIFORNIA DRIVER EDUCATION
Our online California Drivers Education course is state-approved (license #E2250) and meets the state's requirements as a 30-hour course, but you may finish sooner if you are a fast learner. Either way, you set your own pace and if needed, you can take as much time as you want. It's entirely up to you! Our course is fully approved by the California DMV, and is designed to give you the knowledge and skills you need to get your learner's permit and driver's license. So, skip the classroom and take the course online.

ABOUT THIS COURSE:
This course is 100% online and can be completed from your mobile device or computer. There is no need to download additional software or mobile apps.
We provide a 100% money-back guarantee. If you request a refund within 30 days of purchase and prior to passing the final exam, we will refund your money, no questions asked.
You can sign-in and sign-out whenever you want and we track your progress, so that when you return you can start where you left off.
When you pass the final exam, your certificate will be printed and shipped for FREE by the next business day using First-Class mail. Standard delivery takes about 7 to 10 business days, but may be even faster. Expedited shipping options are also available.
You will also receive a confirmation email with instructions on what to do next. We provide step-by-step instructions to make the process as easy as possible.
HOW TO GET YOUR PROVISIONAL INSTRUCTION PERMIT
Step 1: Complete this online course.
Step 2: Make an appointment online to visit your local DMV office. You will need to bring the following:
The confirmation number for your online application
Your certificate of completion for this online course
DMV Class C License Fee ($37)
Step 3: Pass the vision and knowledge exams and get your permit! Please note the following:
The knowledge exam must be taken in person at your local DMV. It consists of 46 multiple-choice questions, and you must answer 37 correctly to pass.
The provisional permit is not valid until you start your 6-hour behind-the-wheel driver training with an instructor or reach 17½ years old.

THINGS YOU SHOULD KNOW:
This course is required to get a provisional instruction permit between the ages of 15 ½ and 17 ½, or to get a driver's license before turning 18.
You can also take this course if you just want to prepare for the Knowledge Exam.
You must hold your instruction permit for 6 months to be eligible for a Provisional Driver's License.
For more information on teen Driver's License requirements, click here.
If you have not completed drivers ed, you will not be able to get your license until age 18.
FUN TO WATCH, EASY TO LEARN
Our California Driver Education Course is designed to help you get your driver's license fast and easy. By combining easy-to-learn text lessons with engaging animations and videos, you'll be amazed at how quickly you'll comprehend our course material. Our course is also divided into concise one-subject chapters so you're able to concentrate on learning one subject at a time.

MESSAGE TO PARENTS
We understand that for most parents, the process of teaching their teen to drive can be full of stress and anxiety. So, let go of some of that stress and let us help. When your teen takes our online California drivers ed course, they get an online course that covers every critical aspect of driving that all California drivers need to know. Get started today and ensure that your teen has the knowledge they need to be a safe and responsible driver.
Once your teen has completed this online course and received their certificate of completion, you can prepare for the next steps in their training by reviewing the Parent-Teen Training Guide provided by the California DMV.
How do I receive my Certificate of Completion?
Is this course state-authorized?
Does this include the behind-the-wheel training?
Can I take the Permit Test online too?
Can I start driving as soon as I get my permit?
Money back guarantee
We are so confident that you will be 100% satisfied that we guarantee it or your money back.
No hidden cost
We only advertise our actual bottom line cost. What you see is what you get.
Certificate Included
Other schools charge additional fees to provide a certificate of completion we provide it for free.
Price Match Promise
Find a better deal? Just send us a message with information about the advertised price and we'll give you a discount.
The best of the best, of the best.... etc
Ok.... You get the point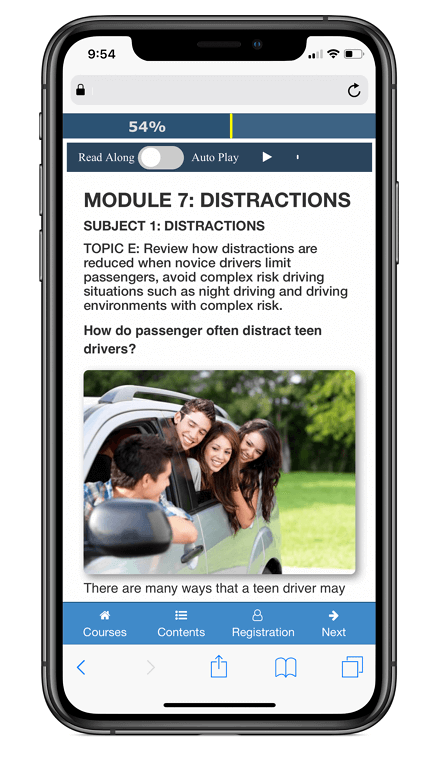 Fast and Easy
By combining easy-to-learn text lessons with entertaining videos, you'll be amazed at how quickly you'll comprehend our course material.
Super Flexible
Sign in and sign out whenever you want. No classrooms and no pressure to finish. We track your progress so you don't have to.
Customer Support
Need help? No worries, just give us a call or send an email and our customer service team will be there to help.
With our mobile optimized learning environment you can learn on the go. Anywhere you have an internet connection, from any device.
All of our courses include interactive quizzes to test your knowledge and ensure you comprehend what you are learning.
Our course is also divided into concise one-subject chapters so you're able to concentrate on learning one subject at a time.